"One foot in the sea, and one on shore,
To one thing constant never".

(Shakespeare W. - Much Ado About Nothing)
The vernacular name of 'mudskippers' (or 'mudhoppers') is used for several related species of fishes (Teleostei, Gobiidae, Oxudercinae: see also Systematics & Biogeography), characterised by peculiar amphibious habits.

Semi-terrestrial activities include foraging, courtship, homing, tidal movements and territorial behaviour (Brillet, 1969a; 1969b; 1970; 1975; 1976; 1980a; 1980b; 1981; 1983; 1984a; 1984b; Berti et al., 1994; Clayton & Vaughan, 1982; 1986; 1988; Clayton, 1987; Clayton & Wright, 1989; Clayton & Snowden, 2000; Ikebe & Oishi, 1996; Kobayashi et al., 1971; Nursall, 1981; Sponder & Lauder, 1981).

These species are currently included in the gobiid subfamily Oxudercinae (10 genera, 40 species; Murdy, 1989; Jafaar & Larson, 2008) and are distributed on tropical and subtropical intertidal soft-bottomed shores of Western Africa and the Indo-Pacific region. The highest species richness and number of endemisms are found in the Indo-Malayan region, which probably is the centre of origin of this group (Murdy, 1989).

The degree of adaptation to terrestrial environment and amphibious life of some of these species, unrivalled among all aquatic chordates, is approximated only by some members of the blennid family (Teleostei: Perciformes: Blennioidei: Blennidae), also called 'rockskippers', that live on rocky intertidal shores (Horn et al., 1999).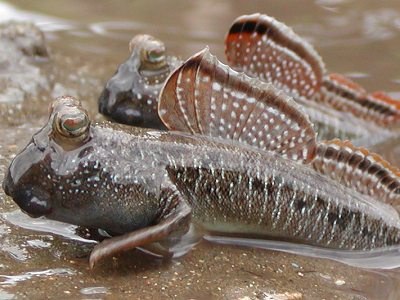 Periophthalmus argentilineatus (Stone Wall Island, Japan, 2002). Photo: Akinori Kamiya "Yamaneko" © umisuzume (2006), with permission