How these dramatic changes affected the conditions of these shallow aquatic environments?

At the water's edge, where vegetation was abundant, the high oxygen demand of the organic matter and the low permeability of fine sediments made these warm shallow waters chronically or periodically highly hypoxic.

This may have happened both in marine and freshwater environments: daily (e.g. in tide pools), or seasonally (e.g. in alluvial plains and in riverine or lacustrine systems, due to floods or droughts).

These environmental conditions must have rewarded any air-breathing adaptation in the aquatic vertebrates that began to invade these ecosystems (Horn et al., 1997; Inger, 1957).

Also in many modern fishes, environmental hypoxia often seems to have been a crucial factor for the evolution of air breathing (see also Bimodal Respiration).

Complex structures such as internal palatal nostrils, or choanas, had originated independently in the Middle Devonian both in dipnomorphs (lungfishes) and in tetrapodomorph osteolepiforms (probable ancestors of all tetrapods) (Long, 1995; Zhu & Ahlberg, 2004; Murphy, 2005).

These strongly convergent anatomical changes are thought to correspond with the ability to breathe air, as suggested by the comparative anatomy of modern terrestrial vertebrates. It is reasonable that such structures were strongly adaptive during the invasion of brackish and freshwater habitats.

During the Late Devonian, a great evolutionary opportunity beckoned for air-breathing fishes living in tropical shallow waters.

That is, abundant trophic, environmental and metabolic resources, unexploited by vertebrate competitors, as well as habitats free from aquatic predators, were potentially available to any fish lineage that could increase its terrestriality (Clack, 2002).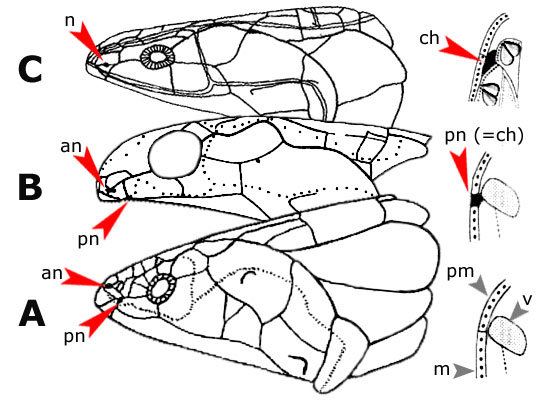 Evolution of the choanas in the tetrapodomorphs.
During the Devonian the tetrapodomorph posterior nostril shifts onto the palate through breaching of the maxillary-premaxillary arcade, giving birth to choanas.
A coeval but independent process took place in dipnomorphs through loss of the arcade and inrolling of the lip (Zhu & Ahlberg, 2004).
These structures enabled to gulp air though nostrils while remaining under the water surface, or with a prey into the mouth (Romer & Parsons, 1986). All modern tetrapods and dipnoans have choanas.
A= Holoptychius sp., a porolepiform: ancestral condition (Late Devonian); B= Kenichthys campbelli, a basal tetrapodomorph: intermediate stage (Early Devonian); C= Eusthenopteron sp., an osteolepiform: derived condition (Late Devonian);
Left: skulls without mandibles; right: ventral partial views of the palates;
an= anterior nostril; ch= choana; m= maxilla; n= external nostril (naris); pm= premaxilla; pn= posterior nostril; v= vomer.
Note that the porolepiform Holoptychius sp., though being coeval to the derived form and even more recent than the intermediate one, retained the ancestral condition.
Adapted from: Long, 1995* (skull of Holoptychius sp.); Zhu & Ahlberg, 2004 (palatal sketches, skull of Kenichthys campbelli, © Nature, Macmillan Publ. Ltd*); and Clack, 2002* (skull of Eusthenopteron sp.). Drawings not to scale
*with permission